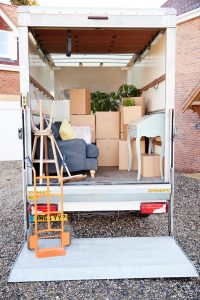 Getting ready to move and dread all the hard work to pack up everything you own, only to have to unpack it days later, unsure where to put anything.  Let us help.  We will customize a move management package where you can be as hands-on as you want.  We can handle everything or just help on move day.
Having our team pack you for your move also adds a layer of protection. Only you and we have the box inventory, not the moving company. This helps protect you from potential items going missing during the move process. Also, our detailed inventory helps you prioritize which boxes you want to unpack first. Helping you get to all the essentials faster!
We have clients where we have only unpacked the kitchen.  And, we have had other clients were we handled everything from start to finish: packing, unpacking, lining kitchen shelves, installing drawer inserts, changing out hangers in closets, purchasing and setting up storage room/garage shelving (with not a single unpacked box left for them to deal with).  How much or how little you do is entirely up to you!
Please schedule a consultation for your customized quote.