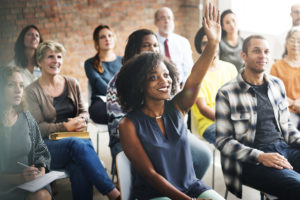 We can provide workshops and presentations on a variety of topics.  Our most requested topics are:
The Best Apps To Keep You Organized, Productive and Stress-Free
Organizing For Your Personality Type – Who you are and how you learn dictates your organizational style. Learn how to organize for YOU and learn about the styles of those around you.
Getting The Most From Your Time – 20 minutes of planning saves you 3 hours in execution. How to plan your week to get the most of what you want out of it.
Organizing Your Office – Basic organizing skills and principals to streamline your office.
Organizing Your Legacy – Organizing your estate, downsizing, planning out your life goals and living with 'no regrets'.
Organizing Your Food – Trying to eat better, lose weight or have more home-cooked meals in your week? We have tips, tricks and short cuts to get you eating the way you want to eat!
Reach Your Goals – There is no such thing as work/life balance. It is all about setting goals, accountability, and teamwork. Choose your goals. Identify your accountability partners and make sure your team is all working from the same playbook.
Please contact us to schedule your workshop today!