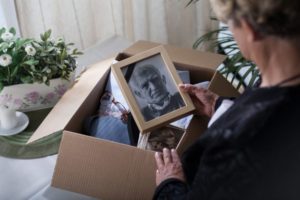 Life is full of challenging transitions, and we want to be there every step of the way. Whether you're moving, downsizing or clearing a home after a loved one has passed, we can help.
Some are looking for a simple declutter session the day before a move, while others prefer us to handle the process from start to finish (purging, packing, donating, unpacking, etc). The process can move slowly or quickly depending on your needs, budget, and comfort level. We can work in a team of two so that you can stay involved in every aspect of the project, or we can bring in a larger team to complete a project quickly. We even host virtual sessions with out-of-town family members to ensure all items end up in the proper homes!
Our estate clearing services are full service.  We can coordinate everything!
Photograph and inventory personal property for family members to view
Review paperwork.  Sort bills, identify accounts and important documents, items relevant to taxes, separate personal correspondence
Make recommendations on items for donation or trash
Remove all discarded items for trash, recycle, e-cycle
Coordinate all third-party vendors: realtors, movers, appraisers, repairs, cleaning crews, etc.
Pack and Ship property to family members
Assist in cancellation of services: lawn, phone, insurances, etc.
An in-person consultation is required for these services, and estimates will be provided. Please contact us online to schedule a consultation.