If you need an easy, throw together meal that has minimal prep, then you should try Joanie's Roast Chicken.  This is a simple, yet impressive, one pan meal.  You can assemble it a day ahead and keep it in the frig overnight and then just pop it in the oven when you get home.  A crowd pleaser for even picky eaters, or impressive enough for guests.
Here is what you need:
2 – whole chickens (or 1 if you have a smaller family or don't want leftovers)
1 pound small potatoes of your choice (red, baby yukon, mixed), cut in half
1-1 1/2  pounds root vegetables (I use a combination of carrots, parsnips, brussel sprouts, etc)
2 large onions, quartered
salt & pepper
Cut up onions, potatoes, carrots, parsnips or any other root vegetables. Arrange the veggies in a large roasting pan. Place the chicken in the middle drizzle with olive oil sprinkle with salt and pepper. Bake uncovered at 450 for an hour, maybe longer if the bird is larger than 5 pounds. Super easy and so good and all in one pan so easy clean up! Double the recipe and use the extra chicken for soup, quesadillas or casseroles.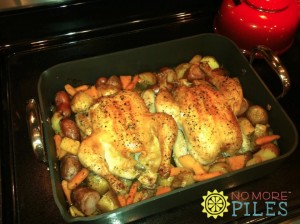 If you liked today's post, you're welcome to use it in your own newsletter or blog as long as you include the following blurb: Joan Robinson, helps working moms and families focus on what is important. Get our FREE weekly tips and advice at www.NoMorePiles.com.