Are you ready to pack like an organizer?  I am going to show you how to pack for 3 days for one adult and 2 kids in ONE carry on bag (and a backpack for keeping busy on the plane).  I don't know about you, but my husband always packs his bag the night before we leave or the morning of, in about 20 minutes.  That works because I am in charge of everything and everyone else: myself, the kids, clothes, identification, tickets, sunscreen, snacks, electronics, cords, etc.  There are two keys to packing like an organizer:
1. Don't over pack. You don't need four extra changes of clothes for a 3 day trip.
2. Have the right tools so you can stay organized once you get to your destination.  My new favorite tool for this is the Ebags Packing Cubes.  I bought each of us the 3 piece multi-pack.  We each have a different color so it is easy to tell whose clothes are whose AND since they are in nice zipper packs, you can set the zippered packs inside a drawer or on a chair/table (depending on the set up where you are staying)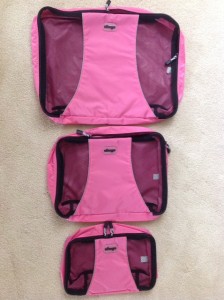 For each child, I packed: 1 pair jeans, 3 shorts, 3 tshirts, 4 underwear, 4 socks, 1 pajamas, 1 bathing suit, 1 sweatshirt, 1 pair keens.  For myself, 3 tshirts, 2 shorts, 1 jeans, 1 long sleeved shirt, 1 sweatshirt, 1 pajamas, 1 bra, 4 underwear, workout clothes, sneakers, toiletries and makeup.  Of course, we will have the clothes on our backs as well, so everyone has at least one extra outfit.
Each outfit for the day is rolled with shirt, shorts, underwear and socks.  This minimizes packing space and also reduces choices for getting dressed in the morning.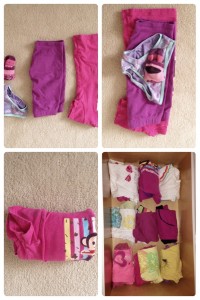 When it comes to toiletries, I want to be prepared and yet carry the smallest amount of any given item.  If you are staying in a hotel that provides shampoo, soap, etc., you can carry less (that is not the case for me this weekend).   Since all the liquids need to be separate for the TSA and all fit in a quart sized bag, you need to be strategic.  I have the medium sized LL Bean toiletry bag which I pack with the toothbrushes, brush, hair ties, mini first aid kit (I add extra flex bandaids), tweezers, nail clippers, razor, ear plugs, bathroom wipes, deodorant, contacts and emergency medicines.  In the quart sized bag is saline solution, sunscreen, body lotion, shampoo, conditioner, body wash, hair gel, toothpaste, benadryl cream and my Arbonne RE9 sample pack (I never leave home without my Arbonne skin care and their sample pack is smaller than travel sizes.  If you want to get yours click here).  For makeup, I go minimal: tinted moisturizer, powder, eye liner, one eye shadow, mascara.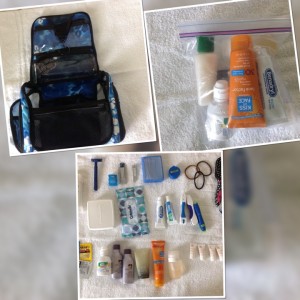 Here is the finished product.  I used the medium packing cubes for our main clothes and the two small packing cubes for my workout clothes and sweatshirt and the kids shoes.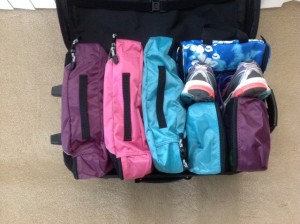 Now, for the backpack.  First, my mini backpack.  I love my Dakine Cosmo mini backpack, it is perfect for days where you are doing a lot of walking with kids and need some stuff and a purse is too uncomfortable for all day (think amusement parks, fairs, hiking, etc).  It has a main compartment and a front organizer compartment with small zippered sections.  I ALWAYS carry a small zippered case with the following: hand cream, saline, extra pair of contacts, sanitizer wipes, kleenex, chapstick, nail file, pen, advil/tylenol, mints and an Arbonne fizzy pack (click here to get your fizzies).  So, in my mini backpack, I have the small zippered case, my wallet and sunglasses.  This backpack is small and will easily fit inside my larger backpack.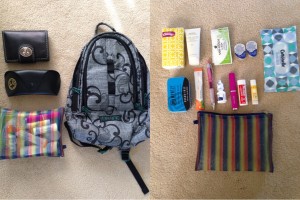 My larger backpack is a regular sized backpack with a main compartment and front zippered compartment.  In here are our boarding passes and flight itinerary, my ipad (not pictured since I was taking pics with it), my kids' itouch and ipad, their blankies, a bag of snacks, all our electronics cords, my TSA liquids bag and my mini backpack.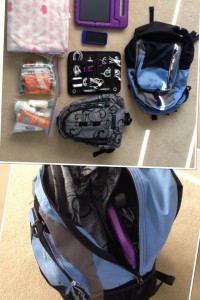 Here is my last set of tips to ease some stress while you are traveling with kids.  I have found four great accessories that I can't live without.  The are all less than $20 each and worth every penny.  My Cocoon Grid It, it is pictured above and keeps all of my cords and chargers organized.  The other three are pictured below and I got them at Five Below or through online daily deals (Living Social, Eversave, Groupon).  They are a head phone jack splitter (in pink) so that kids can watch the same thing on one device and each use their own headphones.  My three way charger that has the new small I jack, the old larger I jack and an android jack.  Last but certainly not least, my Pebble Smartstick.  This is an emergency charger that can bring your phone back to full power or keep an ipad from dying while in use.  Perfect for on a plane if someone's device runs out of juice.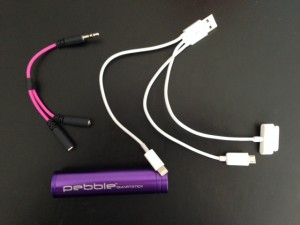 Now we are ready to go!  Just make sure everyone goes to the bathroom before you get in the car.  Happy Travels!
If you liked today's post, you're welcome to use it in your own newsletter or blog as long as you include the following blurb: Certified Professional Organizer, Certified Organizer Coach and Life Management Expert, Tara Donohue Rudo, helps working moms and families focus on what is important. Get her FREE weekly tips and advice at www.NoMorePiles.com.