Do you find yourself calling the same person 3 times and always getting their voice mail?  Are you tired of calling someone back, getting their voice mail and because you have no idea what they needed, leaving a 'please call me back' message?  Let's join forces to stop the phone tag!  Phone tag slows productivity by forcing us to make unnecessary calls that just take up extra minutes in our day.  By being more direct and clear with leaving messages, we can reduce the need for 'call backs' and thus gain precious minutes in our day.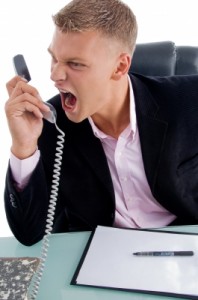 Here are 4 tips to stop phone tag:
1. When inviting people to events or just out to dinner, leave details and be specific, so they can check their calendar and make a decision before calling you back!
Example 1 – Mary, this is Tara.  I was calling you to see if you wanted to join me and the kids for dinner on Thursday night at the Pizza Place  at 5:30.  Hubby is working late and I thought it would be fun to take the kids out.
Example 2 – Tara, this is Jane.  We would love to have you on our upcoming radio show next Friday, January 11th at 11 a.m.  The show would last about 30 minutes and we would need you in our studio by 10:45.  Would that work in your schedule?
2. With clients or prospects, leave all the pertinent details, so you can make the most of your working hours.
Example 1 – Client, this is Tara.  I just wanted to remind you that we are scheduled to work together on Monday, Jan 7th from 9 a.m.-3 p.m.  When we last spoke, our plan was to work on your home office.  See you then.  (This allows the client to only have to call you back if they want to change the plan.)
Example 2 – Prospect, this is Tara.  I got your email and would love to talk to you about how No More Piles can help you with your organizing project.  I will be in my office from 9-2 today if you would like to call me, or you can leave me a message and let me know a good time to call you back.
Example 3 – Tara, this is your Accountant.  I have received the paperwork to start on your taxes, but I am missing your bank statement for July.  If you could please scan it or fax it to my office, that would be great. (No need to return the call.  I can just send over the missing statement.)
3.  If you are looking to hire someone and you are making the call for the first time, leave the details and repeat them.  Sometimes, cell phones break up or call waiting puts gaps in your message.  Repeating your name and phone number, at a slow pace, will ensure a call back.
Example 1- Roofer, this is Tara.  I got your name from Joe Shmoe whose roof you did last month.  I would like to get an estimate on replacing my roof.  I will be home this evening or all day Saturday, if you could call me then.  My name again is Tara and my number is 444-867-5309.  Again, that number is 444-867-5309.
Example 2 – Terry, this is Tara Rudo.  I found your website on the internet.  I am interested in learning more about your services and the costs.  I can be reached on my cell phone at 444-867-5309.  That's 444-867-5309.  I look forward to hearing from you.
4. If your call is urgent, say so!  By the same token, if your call isn't remotely urgent, tell them.  The is especially important when leaving messages for kids, parents or other family members.
Example 1 – Child, this is your mother.  Please call or text me immediately.  You were supposed to call when you got home since I had a late meeting today and wouldn't be there when you got home from school and I haven't heard from you.  If I don't hear from you in the next 15 minutes, I am calling the police!
Example 2 – Mom, this is your child.  I am just calling to let you know that my flight arrived in Florida on time.  No need to call back, just wanted to let you know that I am here, safe and sound.
By using these four tips, you can help everyone you talk to improve their productivity, reduce calls and even communicate more clearly.  Best yet, utilizing these tips doesn't take any extra time, but they all add extra time to your day!
If you liked today's post, you're welcome to use it in your own ezine or blog as long as you include the following blurb: Certified Professional Organizer, Tara Donohue Rudo, CPO, helps families, solopreneurs and mompreneurs focus on what is important. Get her FREE weekly tips and advice at www.NoMorePiles.com.    Image courtesy of imagerymajestic / FreeDigitalPhotos.net